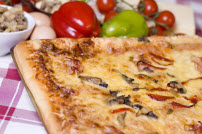 ---

| Category - Individual Pizza Pastry
| | | |
| --- | --- | --- |
| Pizza Pastry | Weight | Pieces / Box |
| Peinirli | 210- 230gr | 30 |
| Calzone | 260- 280gr | 30 |
| Pizza 6 Pieces | 1250- 1350gr | 5 |
| Pizza Vegetarian 6 Pieces | 1250- 1350gr | 5 |
---

Our company has a food Safety & Management System (HACCP) certification. More...

Our company has ISO 9001:2008 certification. More...
---

Produced and packaged at FOURNIN IKE – EU product.
---
| the fournin - All our products in one look...
22 categories of traditional and handmade products waiting for you to choose the ones that best suit your needs.
---
---
| Tags - the Fournin

hand made products, pastry products, phyllo dough, puff pastry, puff pastry pie, puff pastrys, puff puff pastry, puff pustry, yeast by products, yeast products, to xwriatiko

---
| Address : FOURNIN IKE - Leoforos Papanikolaou 16, P.C. 57010, Thessaloniki, Greece,
---

This web site was created by Lion Technology. ® 2013