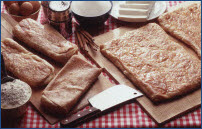 ---
| | |
| --- | --- |
| | | Bougatsa - Chocolate Cream Pastry Pie with foil air |
Original and delicious pastry pies from FOURNIN Private Company. with chocolate flavor. Do you want to impress your customers with something different? Traditional pies with chocolate flavor is something unique.
---
| Ingredients:
Wheat flour luxury, vegetable oil, salt.
Milk, semolina, sugar, eggs, cream, vanilla, cocoa cream with hazelnuts.
---
| Baking Instructions:
---
| Notes :
---
---

Our company has a food Safety & Management System (HACCP) certification. More...

Our company has ISO 9001:2008 certification. More...
---

Produced and packaged at FOURNIN Private Company. – EU product.
---
Pastry pie, favorite flavor of children and adults, is accompanied by a story that is hard to imagine that begins so long ago. Years pass and pastry pies remains popular in Instabul but also in Smyrna. Etymologically, the pies are a corruption of the Ottoman word pogatsa, meaning stuffed with cream poured over with icing sugar or pie stuffed with cheese. More..
---
| the fournin - All our products in one look...
22 categories of traditional and handmade products waiting for you to choose the ones that best suit your needs.
---
---
| Tags - the Fournin

fresh yeast, frozen pie crust, frozen puff pastry, frozen puff pastry dough, hand made pies, hand made products, homemade pastry for pies, pastry for pies, pastry pie, pastry pies, pastry products, phyllo dough, puff pastry, puff pastry pie, puff pastrys, puff puff pastry, puff pustry, rustic pie, rustic pies, rustic products, traditional pie, traditional pies, traditional products, to xwriatiko
---
| Address : FOURNIN Private Company. - Leoforos Papanikolaou 16, Thessaloniki, Greece,
---

This web site was created by Lion Technology. ® 2013