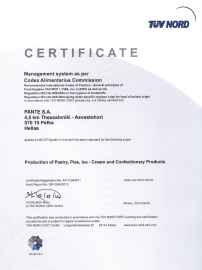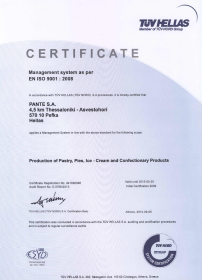 ---
Out history is big. Our products have unique tradition and great quality.

Our company has a food safety management system (HACCP) certification :
---
Our company is certified by ISO 9001:2008 :
---
| Rustic Pies & Pastry Pies and Traditional Products - the Fournin

The pies under the name - the fournin - with unique and traditional flavors prepared with care and quality ingredients like pastry cream pie (Bougatsa) and pastry cheese pie (Bougatsa) with LEAF AIR, but also TRADITIONAL RUSTIC HAND MADE PIES (meat pie, vegetarian mediterranean pie, spinach and cheese pie, mushroom and cheese pie). More...
---
| the fournin - All our products in one look...
22 categories of traditional and handmade products waiting for you to choose the ones that best suit your needs.
---
---
| Address : FOURNIN Private Company. - Leoforos Papanikolaou 16, Thessaloniki, Greece,
---

This web site was created by Lion Technology. ® 2013