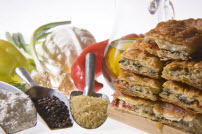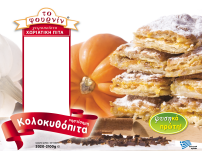 ---

| Vegetarian Tranditional Pastry Products - the Fournin

Are you under fasting; Why deprive yourself of the taste of a delicious vegetarian pastry dough product?

FOURNIN Private Company. produces delicious meatless and quality traditional products.

A wide range of vegetarian tranditional products are waiting for you to enjoy (leek pie, eggplant pie, vegetarian mediterranean, etc.).
| | | | |
| --- | --- | --- | --- |
| Photo | Description | Photo | Description |
| | Spinach Pie | | Potato Pie |
| | Leek Pie | | Taxini Pie |
| | Vegetarian Mediterranean | | Pumkin Pie |
| | Eggplant Pie | Not Available | Cheddar Cheese Pie |
| Not Available | Mushroom with Pepper | Not Available | Chickpea Pie |
---
The pies under the name - the fournin - with unique and traditional flavors prepared with care and quality ingredients like pastry cream pie (Bougatsa) and pastry cheese pie (Bougatsa) with LEAF AIR, but also TRADITIONAL RUSTIC HAND MADE PIES (meat pie, vegetarian mediterranean pie, spinach and cheese pie, mushroom and cheese pie). More...
---
| SUPER MARKETS HAVE TRUSTED US !
Traditional pastry rustic pies - the fournin - easy at your home with one visit at super markets. More...
Frozen Rustic Pies and Pastry Pies with Leaf Air



Pastry Pie with Cream

Pastry Pies with Cheese


Meat Pie

Cheese Pie

Vegetarian Mediterranean Pie

Spinach Cheese Pie

Pumkin Pie




---
Attention : All the above names and logos of companies or individuals mentioned only for illustrative purposes and in no way intended to insult copyright.
---

Our company has a food Safety & Management System (HACCP) certification. More...

Our company has ISO 9001:2008 certification. More...
---

Produced and packaged at FOURNIN Private Company. – EU product.
---
| the fournin - All our products in one look...
22 categories of traditional and handmade products waiting for you to choose the ones that best suit your needs.
---
---
| Tags - the Fournin

eggplant pie, fresh yeast, frozen pie crust, frozen puff pastry, frozen puff pastry dough, mash potato pie, meat pie, meat pies, meatless products, mediterranean meat pies, mediterranean pie, mediterranean pies, potato pie, puff pastry, puff pastry pie, puff pastrys, puff puff pastry, puff pustry, pumkin pie, pumpkin pie, rustic pie, rustic pies, rustic products, spinach pie, spinash pie, traditional pie, traditional pies, traditional products, vegetarian pie, vegetarian pies, vegetarian products
---