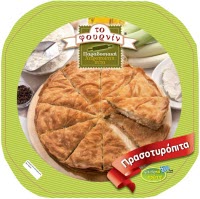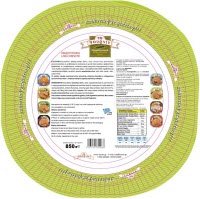 ---

| Traditional Rustic Leek Cheese Pie - Super Market
THE HISTORY OF RUSTIC PIE FROM ANCIENT GREECE ...

The natural history of pie from ancient Greece, where the pies were in the daily diet. Feature was a kind of pie with honey, cheese and oil which was very succesfull and had the name "mytlotos" - a pie with honey and garlic.

The rich meals of the ancient Athenians desserts that included fresh and dried fruit, salty almonds, cheese, garlic and onions ends with sweet and savory pies, which are especially appreciated.
---
---
| Ingredients :
Wheat flour (65%), water, vegetable fat (palm oil, palm kernel oil in varying proportions) and vegetable oils (sunflower-seed oil, maize germ oil, cotton-seed oil in varying proportions, contains flavourings, colouring agent: beta-carotene), virgin olive oil (1%), vinegar, salt.
Leek (65%), cheeses: 30% (whey cheese [mizithra], feta cheese), breadcrumbs (wheat flour, water, salt, yeast), salt, black pepper.
---
| Baking Instructions :
Remove the pie lid and allow the pie to defrost.


Score along the top of the pieces anew and spray with a little water.



Bake in a pre-heated oven in the paper tray at 180οC for approximately 35-40 minutes, depending on the oven.




Attention : Do not bake this product in a microwave oven.

Once thawed, do not re-freeze.



---
| Notes :
Hand-made product. No preservatives.


Prepared with traditional care and the purest ingredients.


Keep in the freezer at -18ο c until the consume-by date printed on the package.



Net Weight :

85

0

gr.
---

Our company has a food Safety & Management System (HACCP) certification. More...

Our company has ISO 9001:2008 certification. More...
---

Produced and packaged at FOURNIN Private Company. – EU product.
---
| the fournin - All our products in one look...
22 categories of traditional and handmade products waiting for you to choose the ones that best suit your needs.
---
| Tags - the Fournin

eggplant pie, fresh yeast, frozen pie crust, frozen puff pastry,frozen puff pastry dough, greek cheese pie, hand made pies, hand made products, homemade pastry for pies, mash potato pie, meat pie, meat pies, meatless products, mediterranean meat pies, mediterranean pie, mediterranean pies, mince pie pastry, pastry for mince pies, pastry for pies, pastry pie, pastry pies, pastry products, phyllo dough, pie crust recipe, potato pie, puff pastry, puff pastry pie, puff pastrys, puff puff pastry, puff pustry, pumkin pie, pumpkin pie, rustic pie, rustic pies, rustic products, spinach pie, spinash pie, traditional mince pies, traditional pie, traditional pies, traditional products, vegetarian pie, vegetarian pies, vegetarian products, yeast by products, yeast products, to xwriatiko
---
| Address : FOURNIN Private Company. - Leoforos Papanikolaou 16, Thessaloniki, Greece,
---

This web site was created by Lion Technology. ® 2013