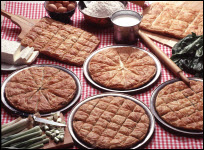 ---

| FROM 'MYTLOTOS' TO A PANDESIA OF TRADITIONAL AND FUTURE FLAVORS
Rustic pie has it's history

A flavors panorama from greek tradition andf PANTE S.A. The tastes of Greek have clear direction in terms of tradition, even more in several different kinds of pies.
The natural history of pie from ancient Greece, where the pies were in the daily diet. Feature was a kind of pie with honey, cheese and oil which was very succesfull and had the name "mytlotos" - a pie with honey and garlic.
The pie that ancient Greeks ate particular morning was based on flour and wine. Another typical pie was the 'mass', kneaded with flour, barley, rye, oats or millet and various legumes. The rich meals of the ancient Athenian desserts including fresh and dried fruit, salty almonds, cheese, garlic and onions ends with sweet and savory pies, which diners especially appreciated.

The pies of the ancient Romans also had a base of rice flour or semolina mixed with eggs, cheese and honey. Later added meat or offal of animals.

In the Middle Ages is known about a few things. We know for example that the fasts pies were very frequent in the daily diet dominated by plant nutrition. However, since combining vegetables and grains as soup or pie.

Today the pies, the spinach or vegetarian pies customary in all areas of our country (with sashes housewives or ready), like the skaltsounia, vol o van, the sou and tarts are nothing but variations of very ancient pie which in its original form was simple and was baked on hot stones or in hot coals.

It's incredible how much people love the traditional Greek pie with rustic pie and more. And if the pizza in Italy is the national identity taste, the pie for the Greeks is the ultimate meal for every hour. And like any great thing in the world, so the pie has its own secrets. The first and most important of all is the quality of materials. Must be the best and fresh. The dough and filo (how thin it is, how many layers will have many more) are also determinants.
---
---
| Vegetarian Rustic Traditional Products - the fournin

FOURNIN Private Company. produces delicious vergetarian meatless and quality traditional products. A wide range of lenten dough pastry products waiting for you to enjoy (leek pie, eggplant pie, vegetarian mediterranean pie, etc.). More...
---

Our company has a food Safety & Management System (HACCP) certification. More...

Our company has ISO 9001:2008 certification. More...
---

Produced and packaged at FOURNIN Private Company. – EU product.
---
| the fournin - All our products in one look...
22 categories of traditional and handmade products waiting for you to choose the ones that best suit your needs.
---
---
| Address : FOURNIN Private Company. - Leoforos Papanikolaou 16, P.C. 57010, Thessaloniki, Greece,
---

This web site was created by Lion Technology. ® 2013